Service Design and Design Thinking as key tools for the future of Health
Hôpitaux Universitaires de Genève
The HUG hospital is using Service Design and Design Thinking to prepare the future. In this context, one crucial aspect was to train key staff members to use these human-centered design methods.
Ambition
HUG (Hôpitaux Universitaires de Genève) is the biggest hospital structure in Switzerland. The cantonal organisation is made up of 8 hospital centers, employs about 12'000 staff members and treats more than a million people a year.

Enigma was requested to provide HUG's top managers with innovative tools and methods in order to implement a new patient-centered work strategy.
Actions
Enigma organized 5 custom one-day workshops for 29 HUG hospital's top managers.

Within this timeframe, the team was introduced to human-centered design approaches, including Design Thinking and Service Design:




Design Thinking

is about leveraging a designer mindset to tackle business problems.




Service Design

is about actively shaping the customer experience to making both enjoyable for the client and profitable for the company.



These workshops provided an opportunity for the team to become familiar with practical tools which they could use in their innovation, patient journey mapping and idea generation processes.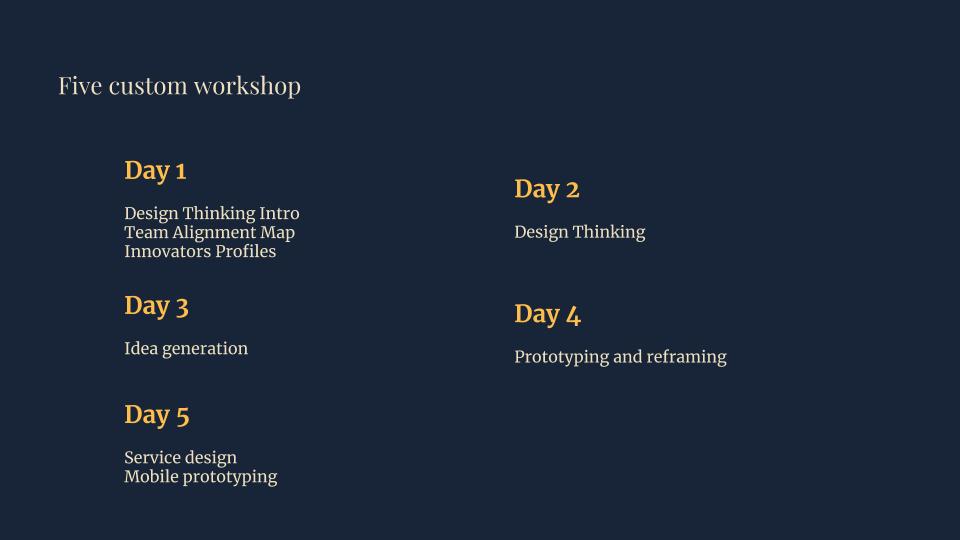 Innovation profile detection
Speaking about innovation, you should be aware that there are radically different innovator types. In order to focus on their own strengths, it can be valuable for each team member to know their innovator profile.

Additionally, a proper allocation of innovation profiles by the management team supports the development of collaborative and efficiently innovative teams.

We started with letting each HUG top manager determine their strengths and weaknesses. To do so, we used the Basadur profile test, a personality test based on individuals' problem-solving analysis.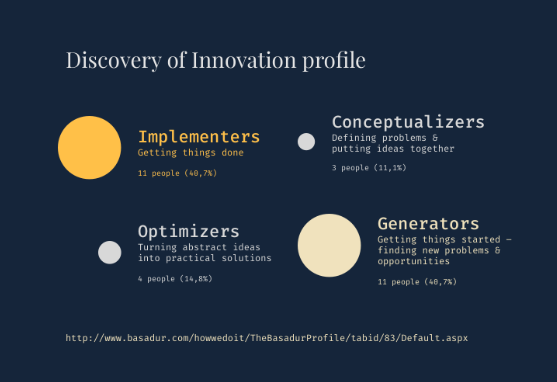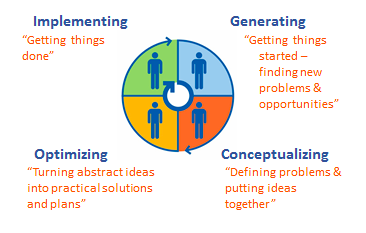 Design Thinking training and workshops
At Enigma, Design Thinking is not seen as a rigid process, but rather as a toolbox for human-centered innovation. Therefore, the goal for the first series of training was to introduce Design Thinking and its potential for the health industry and hospitals.

As Design Thinking is considered as a toolbox, we organized practical workshops to train the team on how to use it. These exercises allowed them to understand the strategic importance of Design Thinking as well as get ideas and skills for future use.
Team Alignment Map training and workshops
In a later stage, the HUG management team was trained on The Team Alignment Map canvas, a practical tool helping teams to align their vision.

The Team Alignment Map is a structured workshop format which sparks key conversations. It a great way to make sure everyone is on the same page with an innovation plan.
Idea Generation training and workshops
Innovation cannot happen without new, game-changing ideas. Practical tools helped the HUG team escape the burden of classical brainstorming sessions. This was made possible by the most up-to-date resources, such as studies about ideation. HUG top managers could for instance experience silent brainstorming. This innovative technique fosters the generation of broader and richer ideas.
During this thought exercise, more than 250 ideas were generated. These ideas and suggestions will serve as an inspiration for the future of the hospital and the future patient experience at HUG.
Service Design training and workshops
Service Design is a methodology allowing a company to design their customer experience. This approach involves both what the users experience (also named the front stage) and what the staff members experience (the backstage). The strength of Service Design lies in its holistic approach: it includes all stakeholders.

The Enigma team introduced more than 20 practical tools to help the HUG top managers create a better patient experience. These tools covered the following topics:




Find

patient pains

in their hospital experience.




Map a

patient journey

and its implications for the hospital and its team members.



Prototype

a new patient experience both at the hospital and digitally.



Test the impact

of new ideas and prototypes to reveal possible improvements.



Two key tools, the
Service Blueprint
and the
Mobile Prototyping,
were explored further by the HUG team.
Service Blueprint: Map the patient experience
The Service Blueprint is a mapping tool. It shows the patient experience, from the arrival at the hospital to the treatment and the recovery process at home. It also shows the impact on the staff and internal processes.

By mapping the patient journey, the team was eventually able to identify emotional pain moments and patterns. Interestingly, both patient and medical staff emotional pain could be highlighted in different treatment steps.
Mobile prototyping: create and test new digital services
Digital transformation obviously is a key challenge for hospitals today. There is a growing need for digitization in order to improve the patient experience. However, creating new mobile services is a huge process that requires lots of time and money. So we used prototyping to easily test mobile app ideas for improving the patient experience. These rough prototypes were used by the team to test out the idea's value with patients.
Impact
Enigma was able to train 29 managers to human-centered innovation methods. These workshops, tools and generated ideas helped the HUG team prepare for the future of health.