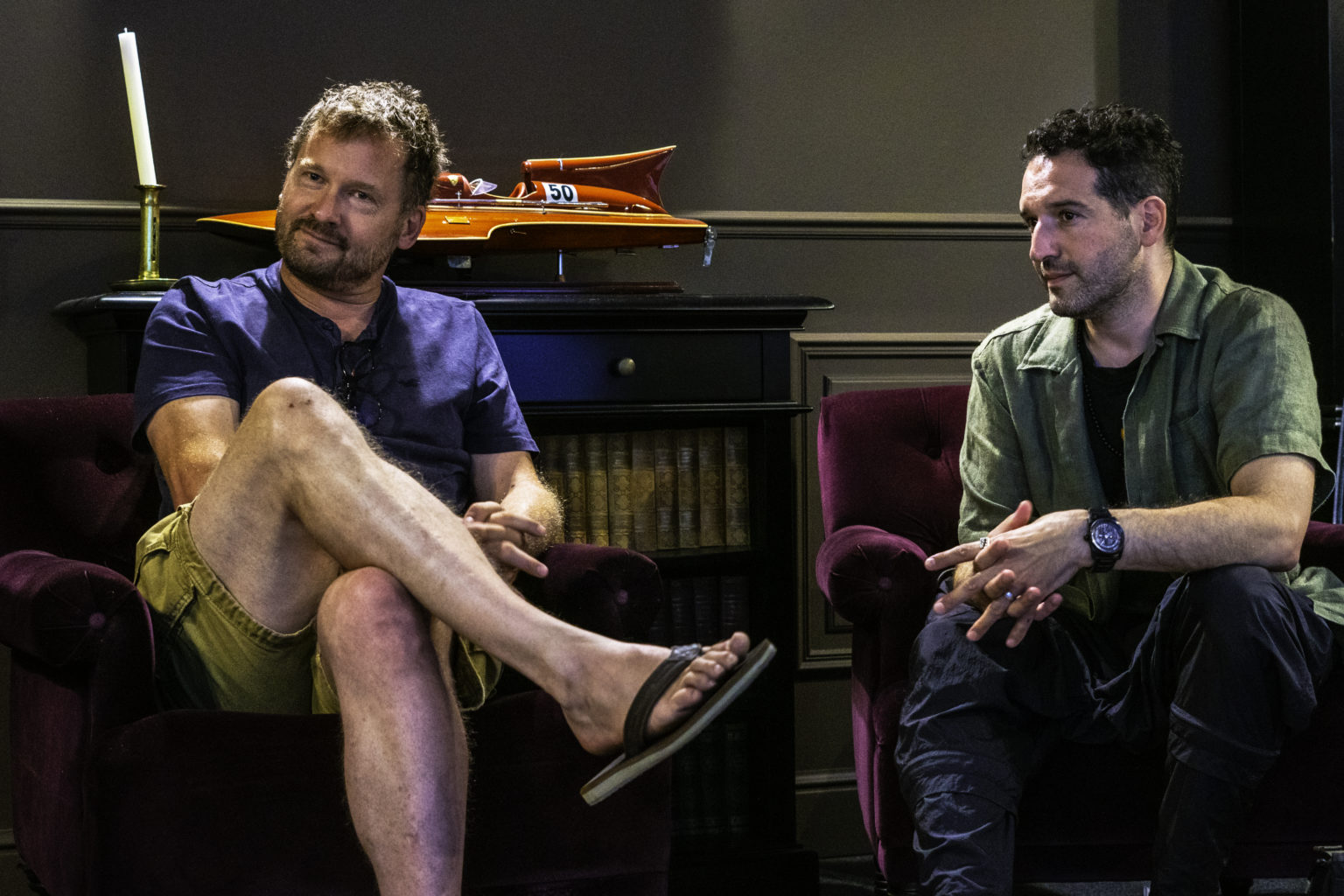 August 21, 2022
Infomaniak: A hybrid marketing strategy
Infomaniak, "the ethical cloud" as they present themselves, is a great company to analyze in terms of marketing as they have a hybrid approach: They focus on product development, but, their strong values are at the core of their communication and day-to-day actions.
How does their hybrid approach unfold and how do their values influence their marketing? What are the consequences of the way we perceive them from the outside? What is their marketing mix? That's what we'll talk about in this article as Enigma had the chance to interview Boris Siegenthaler, founder of Infomaniak, and Thomas Jacobsen, Communications Manager, to talk about their marketing strategy and to share our respective experiences.
As usual, we got a few lessons out of this exchange and we'd like to share them with you!
Let's start!
Infomaniak's objective: To become a local alternative to the GAFAM
Now that is an ambitious objective they have set for themselves and for their entire marketing strategy. The last few years have been focused on looking for a way to compete with the GAFAM and to dethrone them, to give people other options. In terms of advertising, it is no secret that the GAFAM have an enormous impact on businesses and set the standard in terms of pricing. Their products are used by millions of people and once you are using them, you get used to it without taking the time to explore other alternatives. 5 years after choosing to use Gmail or Outlook, you don't necessarily wonder about the consequences on the management and confidentiality of your data.
Because they are so willing to be a valuable alternative, all their efforts are concentrated on developing products that meet 80% of people's needs. Challenging the GAFAM is not their primary goal, it is to make sure that people have a real alternative, that they have a choice, and that they see that it is possible to develop local options while creating jobs, paying taxes and being able to guarantee data sovereignty.
Lately, they have developed a service to offer free email addresses and an alternative to Google Drive that are stored on a free cloud that is 100% Swiss and independent. Yes, for free. They do not get any money out of it. Why? Because they are heavily contrasting with the GAFAM and prioritize values over profit using a very different business model. Of course, Infomaniak's team is clever enough to get their business rolling. They've existed for 28 years and have been a key player on the market ever since. Needless to say, they know what they're doing.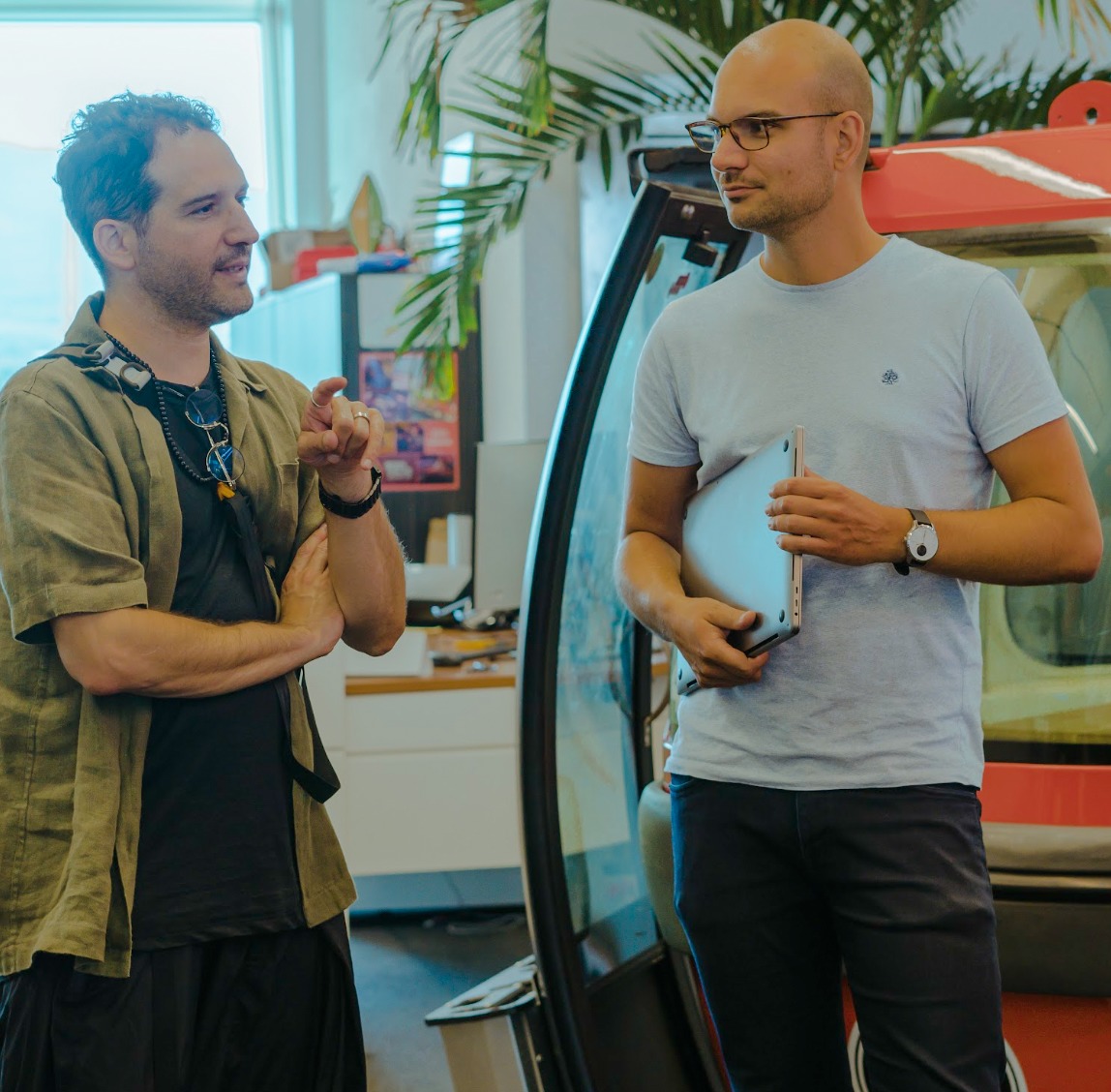 However, their counter strategy raises a few questions, since they are willing to introduce such similar products to the market
What's the added value of their new options?
What do they get out of it?
Well, the answer to those questions lies in their values and the importance they attach to them. They developed products similar to Gmail and Drive for instance because they wanted people to have an alternative that doesn't endanger their data or privacy. We all know that the GAFAM started selling the data to make a profit, thus opening the door to fraudsters and breaches in the system. Lucky for us, today they are all working on this challenge, looking for solutions to improve data protection and privacy.
However, Infomaniak is not simply emulating Google's products for free. They are actively working on solutions that will include new features, making them more than just copycats.
So, what does Infomaniak get out of it? The satisfaction of knowing they don't work solely for profit, but for something bigger than themselves? Maybe. What is certain is that they have very strong values that have many consequences on their marketing. Some good, others not so good.
The importance of values within a product-driven strategy
Because Infomaniak is preparing the field to replace the GAFAM in Switzerland, they need to put a lot of effort into developing new products and improving existing ones. Most of their budget is allocated to that… But not all.
Infomaniak has a solid environmental sensitivity and actively seeks to reduce its ecological impact. So much so, that a 6 million-project to reuse the water cooling down their data center became a big part of their activity since 2017. The aim of the project is to produce electricity around Geneva.
Why am I talking about that? Because it perfectly illustrates their hybrid approach mixing values and community with product-driven marketing. Their GAFAM-alternative objective requires them to be product-driven, but, their core is all about values and vision, and they communicate around these aspects.
The effects of mixing strategies on brand clarity
Between the products they are developing and the data center, there is little flexibility in terms of budget:
In the current situation, they cannot use resources for R&D as much as they would like to, which slows down their progress to compete with the GAFAM. At the same time, it allows them to be independent and guarantees the respect of their values: privacy, sustainability and proximity.
There is little room for advertising and marketing in the budget. That's why they developed services like Swiss Transfer and kMeet. They bring real value to get people to know them instead of sending ads to them. It is a choice they've made and luckily they do not seem unhappy with it as they are a strong, healthy company, but, it does impact their brand positioning.
Because they prefer to use the money elsewhere, their marketing and communication activities are managed internally by a small team of people. With 180 employees across Switzerland and the company's ambition to replace the GAFAM, they could have a bigger marketing department.
The brand is repositioning itself and wants to convey a specific message to the world. The problem is that it lacks a little bit of clarity:
They want to be the local alternative to the GAFAM, but, their website conveys an image that is closer to that of big corporations rather than local companies, as you can see in the image below.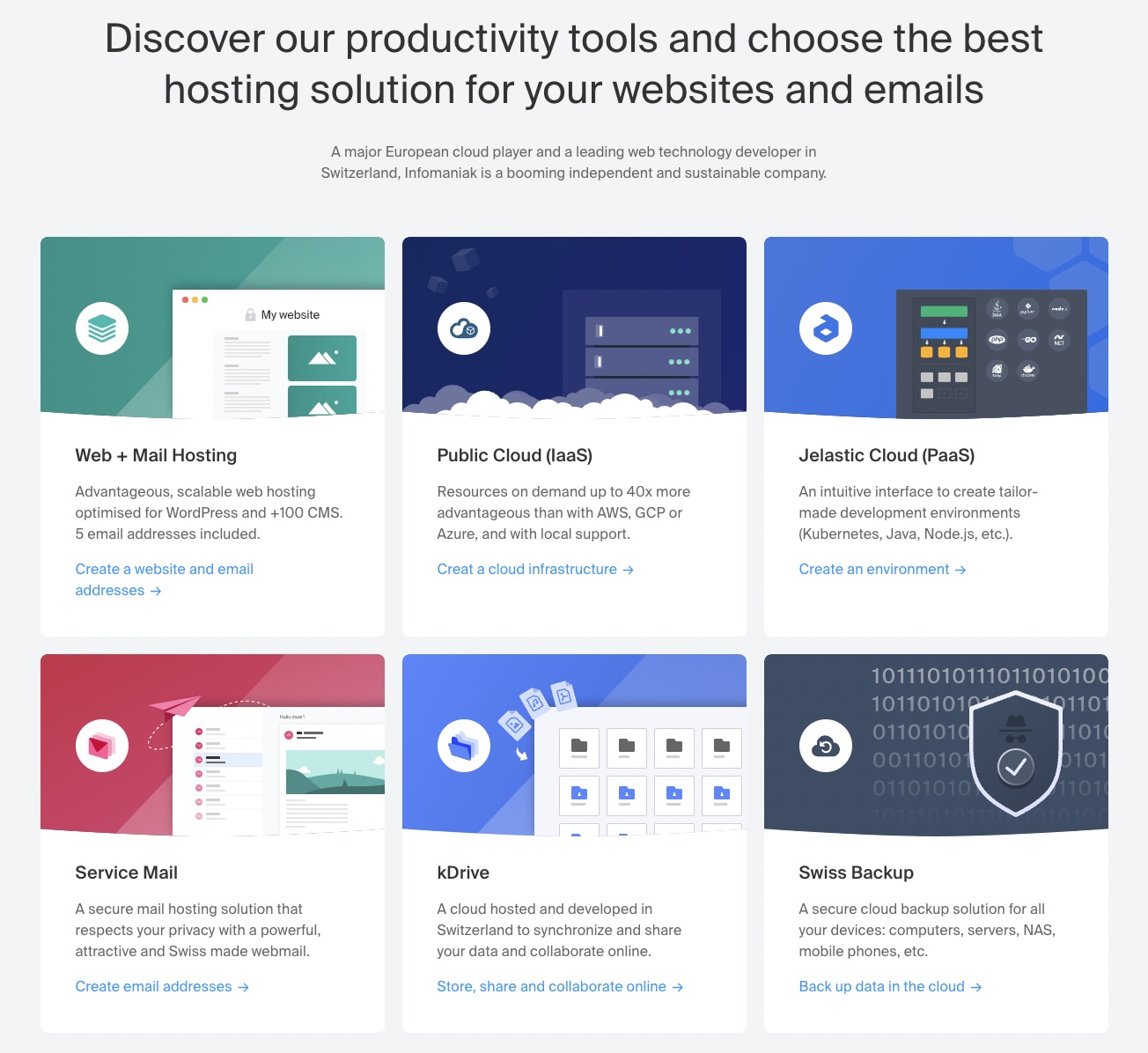 They're repositioning themselves and communicating new messages to people through digital campaigns. But, even if their latest campaign in the German-speaking part of Switzerland worked really well, the visuals don't show the brand's personality and we cannot grasp how amazing Infomaniak is. It is a pity if you ask me because they are genuinely greater than their visuals!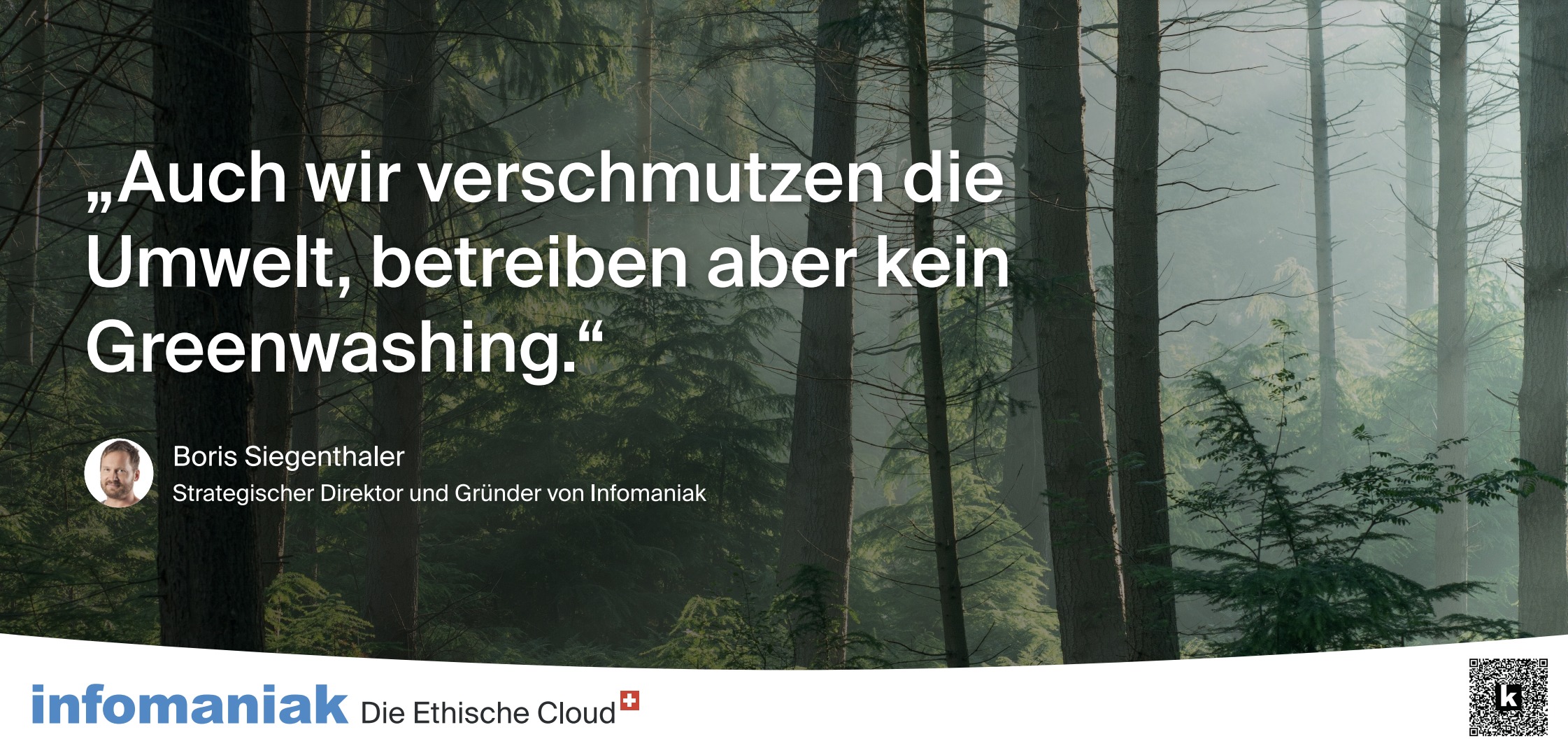 Another consequence of mixing strategies can be seen in their media mix. In 2020, the usual split to ensure the entire customer journey is covered, is approximately 50-50 between classic media and digital media. Infomaniak operates on a 30-70 basis, giving more weight to classic media than digital ones. While it is quite unusual, there is a simple explanation: relationships first. They replace digital marketing with deals they have with classic media such as local TVs and radios because they've worked with for years. It is also aligned, again, with their values as they don't want to support the GAFAM too much 😉
Their marketing activities and use of classic media come as a great support to the unbeatable power of word-of-mouth. However, while word-of-mouth constitutes a key component of a brand's reputation, it is not the main driver of sales. Other hosting companies have a much more intense strategy when it comes to advertising and Infomaniak had better keep its eyes wide open. The future will tell whether Infomaniak starts to follow them in terms of digital advertising.
Lessons we've learned
Great counter strategies go beyond copycat products.
The fight between economic profit and value is real.
Values have economic consequences: some are good, others a bit less.
Marketing is not everything: using your instinct and staying true to your values can get a company rolling.
Infomaniak is your go-to if you're raging against the big players or simply want to work with great and committed people 😉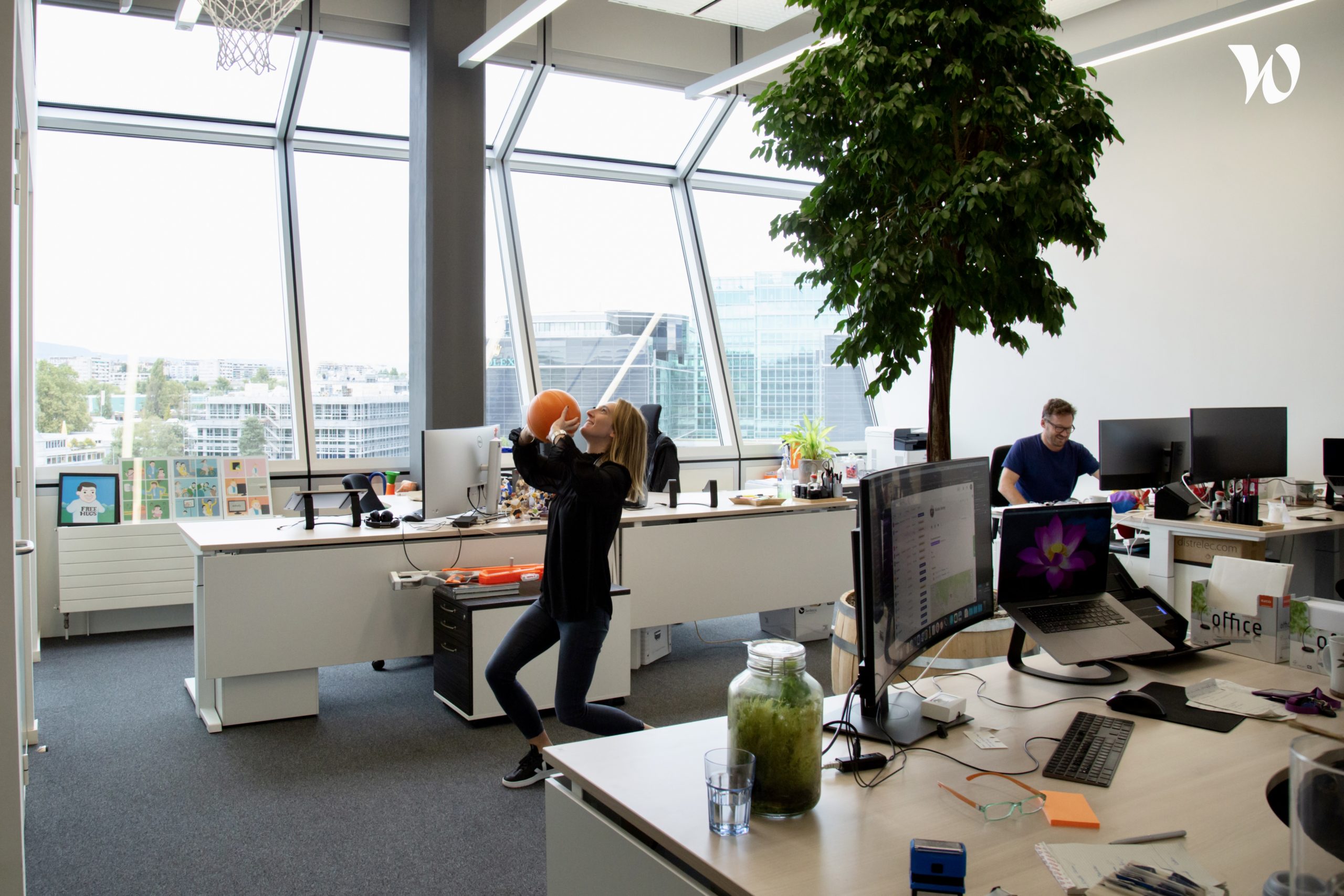 We wish Infomaniak all the best as they continue to reach their goals!