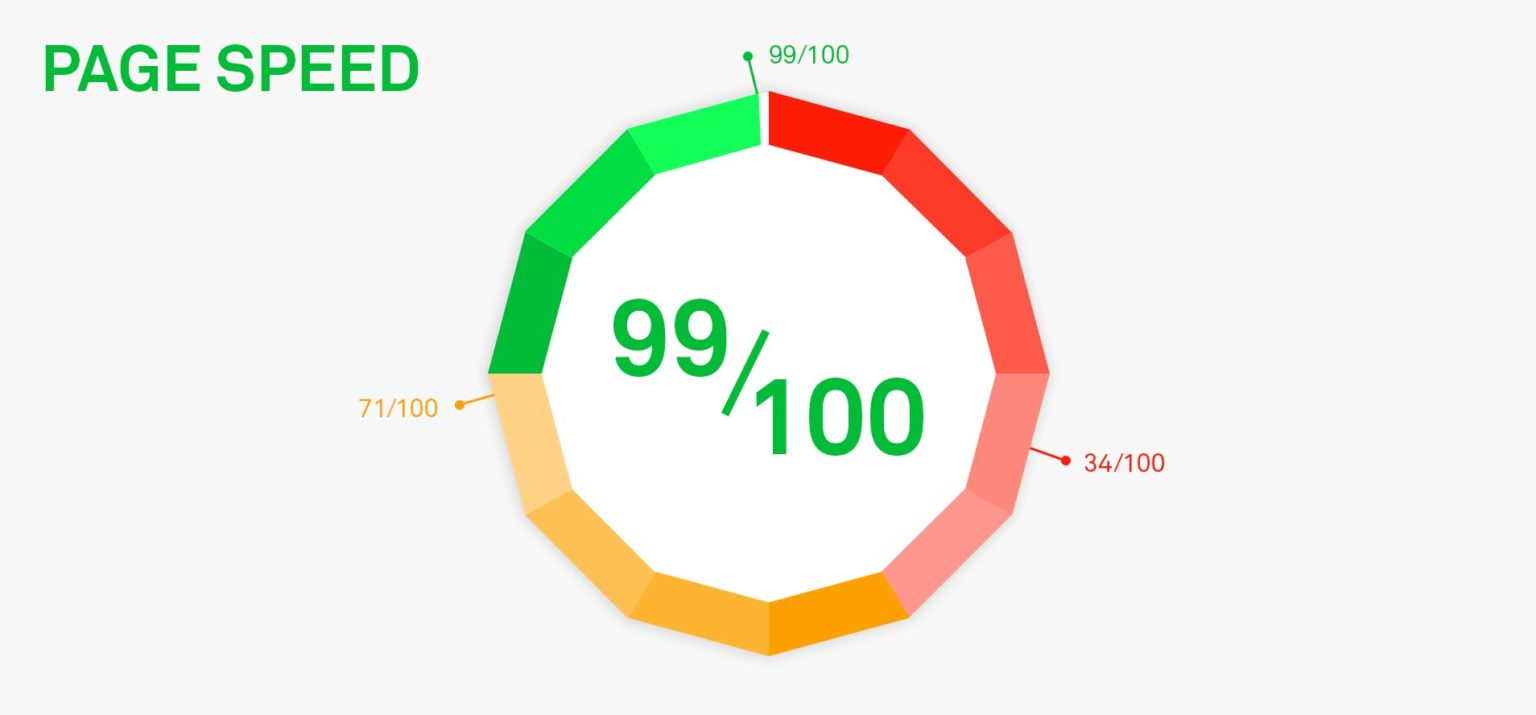 November 27, 2014
Your Website Speed: The Key to Performance
The speed of a website has more impact that one could expect.

What does Google recommend?
Google bases its findings on human reality and on our natural perception of time: 400 milliseconds, or the time for the eyes to blink. Taking more than 400 milliseconds to go from one page to the next is considered slow. As evidence, one visitor out of four leaves a website if the loading time goes over the 0.4-second threshold.

What is the ideal speed? 100 milliseconds, or the time needed to establish the connection between the eye and the brain. A loading time of that speed feels like it's instantaneous. This speed is the closest to reality, and is thus recommended by Google.

Did you know that Google offers a free tool that suggests improvement?

With this took, for example, Enigma's new website reaches 99/100 on a desktop and 99/100 on mobile for its best pages. To obtain such results, a tedious task of optimization is required at the time of the creation of the website.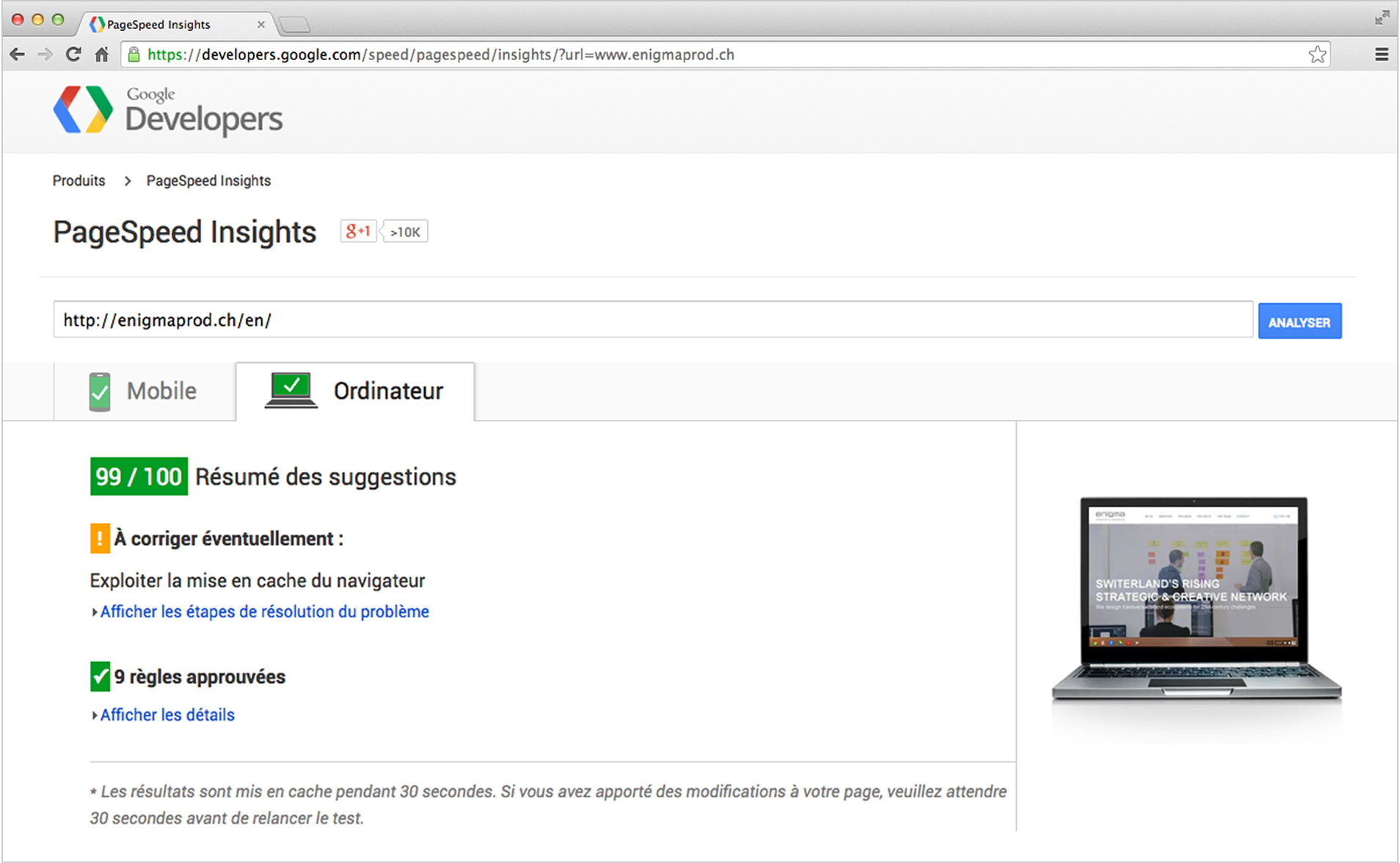 Why measure the speed of a website?
Speed is an essential criterion in order to offer a good user experience to your visitors. The faster your website, the better experience your visitors will have, and the more time they'll spend on your pages.

E-commerce
A slow website can have negative consequences in terms of conversions. For an e-commerce giant like Amazon, for example, each additional second needed for loading costs $1.6 billion in annual losses. These losses represent all conversions that were not completed because of the site's slow loading. In other words, if a website cannot deliver access to the data that visitors want on time, the quality of its experience is diminished.

Showcase Websites and B to B
It is obvious that speed has a direct impact on e-commerce; it is less obvious that speed also has an influence on other websites. Even if your website is the most relevant place for a visitor to find pertinent information, you may lose your visitor if your website doesn't deliver information speedily enough.

Whether your website is a simple showcase of your store, or a B to B platform, speed is a key to performance.

Design
The faster and better the navigation, the more impact it has on design, especially on mobile devices. A fast loading site will have to have optimized photos and videos. It will also need a sleek design that focuses on essential information.

Mobile
A new trend is appearing: 1 second. On a mobile, this means that each page of your website will be displayed in less than a second. This requires a better organization of the content and an optimized coding.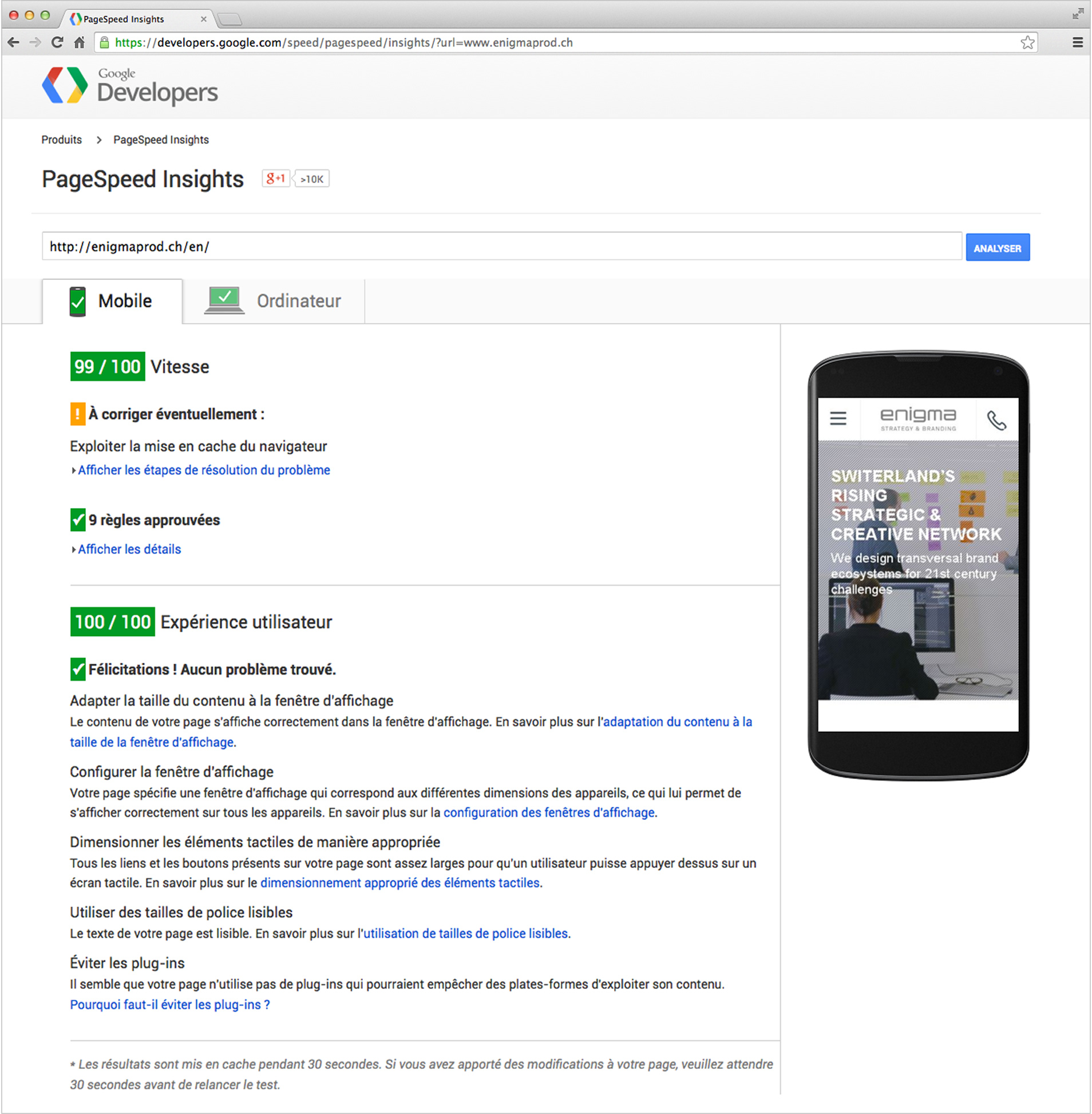 You can now use all technical tools that are offered on the web and revamp your site entirely.

So, how did your website score?

References:
https://developers.google.com/speed/docs/insights/mobilehttp://googleresearch.blogspot.fr/2009/06/speed-matters.html