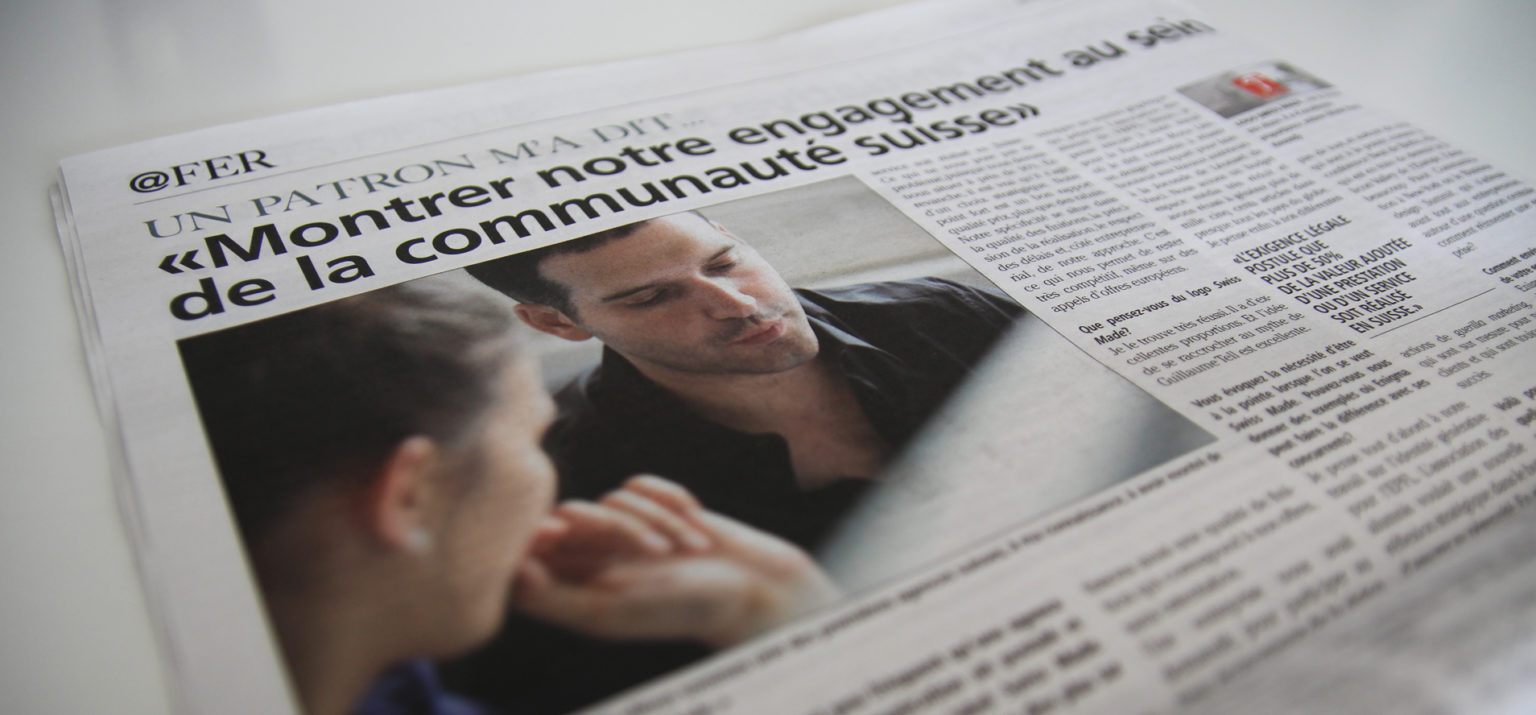 March 7, 2013
A CEO told me
To celebrate its fifth birthday in style, the Geneva-based advertising firm Enigma just earned the Swiss Made label. This achievement empowers its founder, Olivier Perez Kennedy, to state more strongly the ways in which his agency is unique, and how Swiss values and know-how drive his company. He tells us why, as a service-oriented agency, it is important to cover all bases.
It is unusual to hear that an advertising firm applied and earned the Swiss Made label. Can you tell us more about the process?
To my knowledge, we are one of the first Swiss agencies to have shown interest in the Swiss Made label. It was a way for us to show Enigma's commitment to the Swiss community. For the people we work with, it is a guarantee that professionals who are hired in Switzerland according to Swiss standards create what we deliver. We thus guarantee a quality for the finished product that meets our offering, without show-off.
A company had asked us to outsource only to Swiss start-ups so that we would contribute to the economic development of the region. We liked the idea.
What are the constraints or the disadvantages that come with the label ?
The legal requirement states that over 50 percent of value added to a service must be done in Switzerland. This is not a problem for us, since we are close to 90 percent. It is true that it is a strategic choice. One of our most attractive feature is great value for the money—more than a discount. We are attractive if you look at the quality of the finished product, the precise completion, the respected deadlines and the entrepreneurial spirit of our approach. This is what makes us competitive, even when we bid at the European level.
What do you think of the Swiss Made logo ?
I find it very successful. Its proportions are perfect. And it's a great idea to tie it to the myth of William Tell.
You say it's important to be cutting-edge if you claim to be Swiss made. Can you give us examples where Enigma is different from its competitors ?
The first example I would mention is our work on generative identity for the Polytechnic Institute in Lausanne (EPFL). The alumni association wanted to rethink its strategy in order to ensure its continuity. We thought about the things that are common to all alumni, and concluded that although they come from all over the world, they have all studied at EPFL. In order to emphasize this specific detail, we creat a software that could generate 95,000 different logos in one single day ! This corporate base enabled us to develop a graphic environment that presents the EPFL Alumni Association.
Another example is our work for the Mona Lisa Foundation ; the challenge consisted in creating a very clean and simple design in order to honor the works prior to Leonardo's Mona Lisa. We had a small advertising budget and we managed to generate over 1,500 articles around the world. I could also mention various guerrilla marketing actions that are always customized for our clients and that are always successful.
These were results. What is your approach and what tools do you use to make a difference?
At Enigma, we pay close attention when we hire new team members. I systematically check their level of curiosity at our first meeting. I need to see the person wanting to grow. When it comes to advertising, we live at a fascinating time of radical change, in which tools are constantly evolving. You have to think differently all the time. Old technology is part of my planning. Everything inspires me, especially cutting-edge sources such as the Next conference in Berlin, a city that is becoming the European Silicon Valley. I love Pivot Communication in New York or the Business Design Summit, which targets mainly entrepreneurs with the crucial question: how do you reinvent your business?
How do you see your future?
Enigma's main business is to launch brands. These are human stories, as we work with entrepreneurs on their way to success. We love beautiful project, products that surprise us. I'm lucky that my job makes me discover incredible ideas all the time. This year, we are also launching a new product, the Brand Strategy System. It is a canvas that will help the various stakeholders in a company create their brand step by step and with Enigma's website under a "Creative Commons" licence.