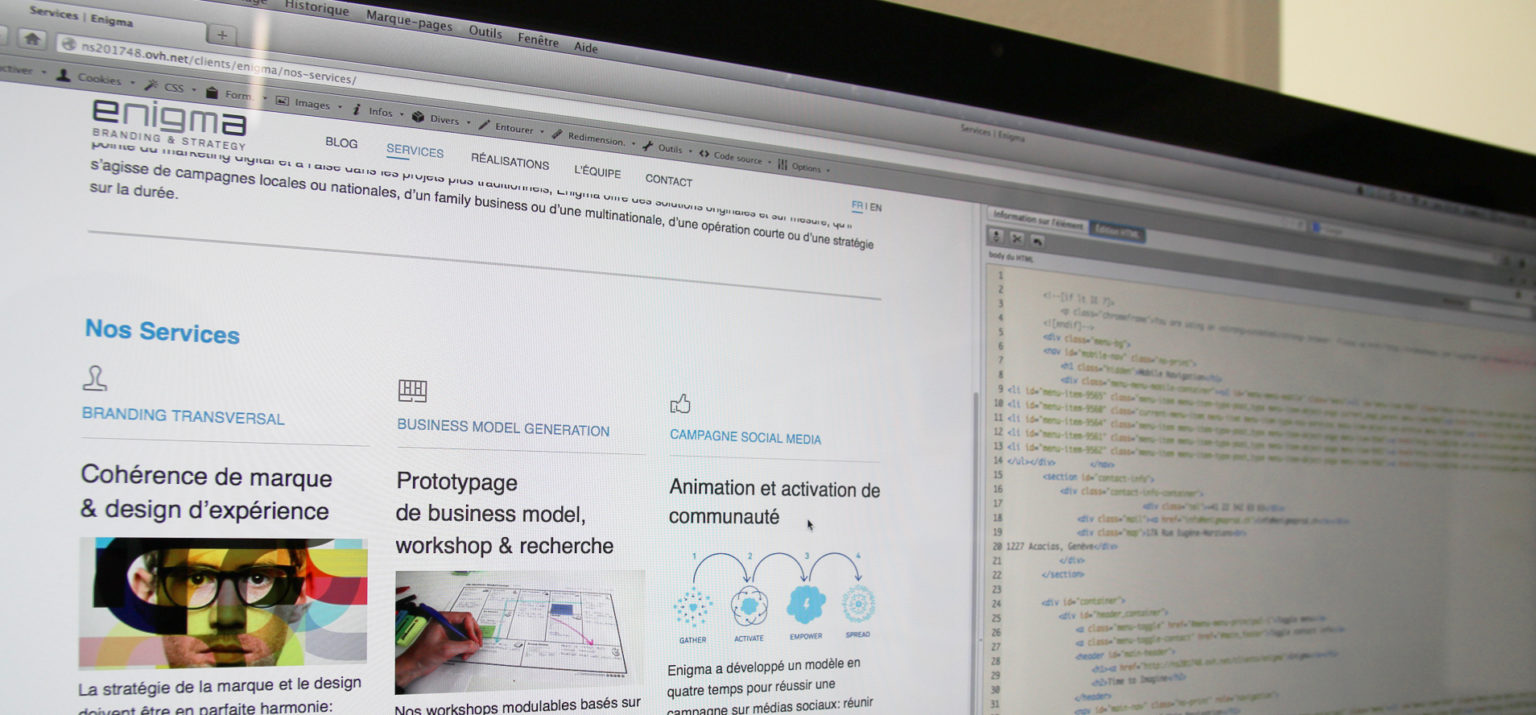 March 1, 2013
Improve your website – 10 ideas
Why wait until your website is obsolete to change or improve it? Any CMS should look at content and format separately.However, how many times have you changed your format? Very often, the answer is "never." Enigma's new website was launched in February 2012. Within this past year, we witnessed so many changes, and A/B tested so many options that it was necessary to revamp our website in order to keep it up-to-date. Enigma's full team is pleased to share with you some of the improvements that we performed so that you can apply them to your own website.

Welcome to the 1.2 version of enigmaprod.ch
1/ Floating Menu
The website's menu follows you. No need to go up or down in order to find the navigation bar; it is always there and makes things easier.
In an earlier version, we added "top" buttons on large pages. But this solution seemed less efficient than a floating menu.
2/ Movement on mobile
Menus take up a lot of space on mobile devices, and a scroll wheel is not enjoyable.
With a swipe from left to right, you reach the menu, and from right to left, the contact information. This practice is becoming common on apps such as Facebook and Google+. Why not get inspired by them?


3/ Pictograms
Whether for contacts or for the hamburger menu, we use pictograms that give the information in one image. In our new website, we have refined and unified their design so as to make our brand more cohesive. There are presented together here.


4/ Refine the grid
To use boxes or shadows for buttons or an envelope for a contact form is often an easy way. But without them, our website was not clear. One could hastily conclude that skeuomorphism makes a website more accessible and more understandable. It is actually proof that the architecture is not cohesive and that we need design tricks to hide the architecture's functional weaknesses. We worked on negative spaces, and in black and white to make sure that the design was clear. We unified the framework on all pages so that columns and gutters remain in the same place.

grid system enigma service
5/ Text size
Large screens stand far from the eyes. In order to respond to this new trend, we increased the font size.
6/ One navigation style for various content types
A/ Blog
We presented the articles in a way that engages reading, by disrupting the text as little as possible. Over Y pixel, a left frame lists other articles in the same category. The goal is not only to offer follow-up readings, but also to limit the number of lines and make reading an enjoyable experience.

B/ Services / System
These pages were conceived to present in one glance numerous articles around the same topic, thus creating a unit. We wanted summaries for each of them. The articles were written in a 2-column format so that reading is faster and more efficient.
C/ Projects
We implemented a system that identifies more quickly new projects that are starred at the top.
You can display this page in two ways, with images only or with a title.
7/ Automatic post loading
At the end of the page, loading is launched automatically, both in the blog and in the project section.
The concept of a "page" is actually strange on the Internet, and tends to disappear. Facebook or Twitter's newsfeed do not have pagination. The only place where pagination still exists is probably on google.com. Even image searches are giving up page numbers, which could lead to the same development for classic searches.
8/ Speed
Speed is important for web users and for google; we have thus optimized processes so that we can offer beautiful and lavishly illustrated content, but even faster.
9/ Retina
You have a Retina screen… We have thought of you. All pictograms and logos on the website come in two versions: Retina and classic.
Images are not yet optimized in Retina mode, because no existing system convinced us with its speed and efficiency. This will take place in the next version. But if you look closely, you'll see that some modules are currently being tested on certain pages.
10/ CDN
To increase speed, availability, and international access, we have implemented the Content Delivery Network. This way you look at your website as if it were hosted near you.