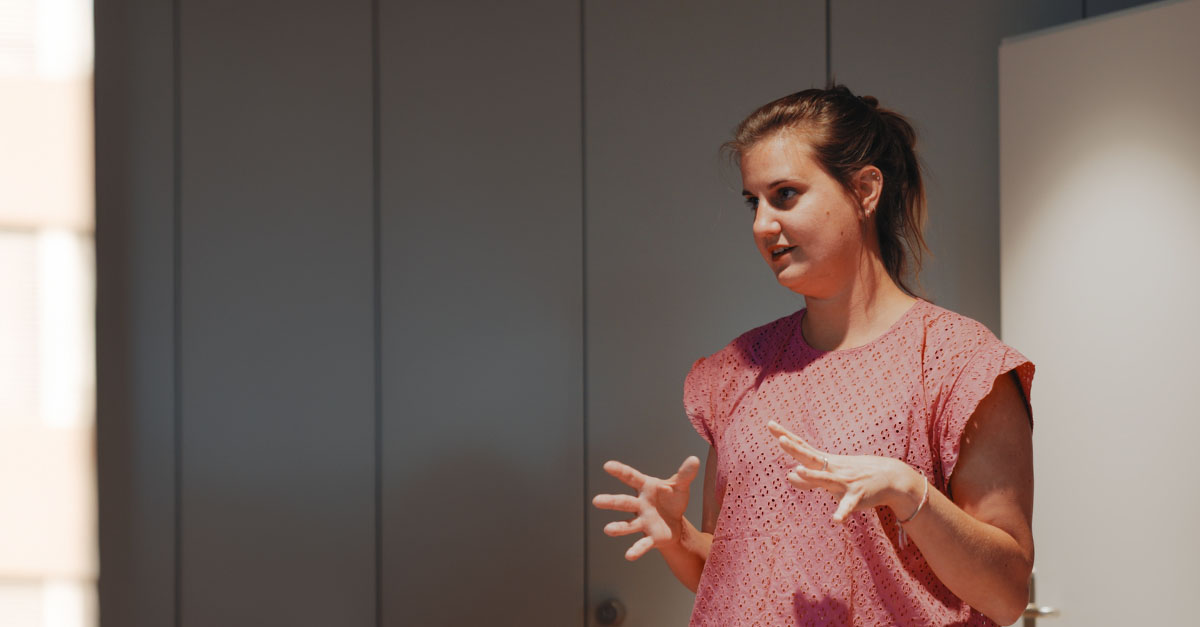 June 13, 2023
Charting the Digital Landscape: An Interview with Charlotte Paris on Leadership and Diversity at Enigma
Olivier Kennedy, CEO Enigma: Today, we sit down with Charlotte Paris, a valued member of the leadership team at Enigma. In this interview, she shares her journey from her beginnings at Gamned, to becoming the Head of Digital at Enigma. We're delighted to hear her insightful reflections on gender diversity in leadership positions and how she fosters an inclusive work culture.
Charlotte, you've held significant roles at Enigma, including your current position as the Head of Digital and member of the leadership board. Prior to that, you led the team at Gamned. Can you share a little bit about your professional journey?
C.P: Certainly, I began my career at Gamned, where we specialized in programmatic campaigns. It's there that we developed the trading desk. When I joined Enigma around four years ago, my role involved helping the company build their trading desk and expand their programmatic campaign efforts.
Did any particular moments or events significantly impact your career path?
C.P: Joining Gamned was definitely a turning point in my career. Additionally, for a long time, I was the only woman on the team. I tried to hire more women since our field isn't very diverse in terms of gender. Unfortunately, I was only able to bring on two more women to join me on this journey, but these instances were significant and serve as reminders of the gender disparity in our field.
Have you faced any biases or preconceived notions as a woman in leadership, especially in digital marketing, which is often male-dominated?
C.P: Yes, there were biases, but I consider myself fortunate as most of these were positive. People often find it unexpected to have a woman in my position or field, which they find impressive. I've generally been met with respect and my opinion is sought after, which I appreciate.
How does Enigma's culture promote inclusivity and diversity, especially for women in leadership positions?
C.P: Enigma puts a great emphasis on gender equity, which is reflected in the strategic positions held by women in the company. An exemplary case of Enigma's commitment to inclusivity is that of a team member who is transitioning genders, with full support from the entire Enigma team.
Could you share examples of practices that support women becoming leaders, either at Enigma or elsewhere?
C.P: At Enigma, we have flexible working hours, which allow people to balance their professional and personal lives. This is particularly helpful for women who may have responsibilities like child care. However, it's important to note that this flexibility is extended to all employees, regardless of gender. We recognize that parenting and familial responsibilities are shared. Men are equally encouraged to utilize flexible hours for child care or other family commitments. This kind of flexibility fosters a more inclusive and supportive work environment, and it's empowering to see both men and women actively participating in family life while also thriving in their careers. It's a progressive step that more companies should adopt, to promote gender equality and work-life balance for all.
Have you ever encountered gender bias from clients? How did you handle it?
C.P: Personally, I've not experienced such bias, but I've seen it directed at younger female colleagues. Unfortunately, their youth and gender seemed to have influenced the client's perception of their abilities.
What advice would you give to other women on how to handle such situations?
C.P: I'd recommend standing strong and conducting business as usual. It's important to tactfully challenge such biases when they surface, as we do at Enigma, where we value everyone equally regardless of gender.
Do you think gender biases can be changed within the industry? And what role could we play in this regard?
C.P: We certainly can effect change by treating everyone equally, as we do at Enigma. However, biases often stem from cultural, educational, and personal backgrounds, and it's harder to influence those. I once attended an event for leading women in the digital industry, and while it was insightful, I felt it should also have been directed at men. After all, women are already aware of the challenges we face. It's essential to educate everyone about these issues.

I'd also like to add that there is an aspect in the employment landscape that needs attention. Currently, there is a disparity in the pricing of LPP (occupational pension) and Assurance Maternité (maternity insurance) for women compared to men. Even though a company might commit to paying the same salary to men and women, this discrepancy in LPP and Assurance Maternité contributes to a net salary difference. This is something that should be addressed at a systemic level. It is important that these rates are standardized, so there is no inherent gender bias in the basic costs of employment benefits. This would further demonstrate commitment to gender equality and ensure that individuals are treated fairly and equitably in all aspects of employment.