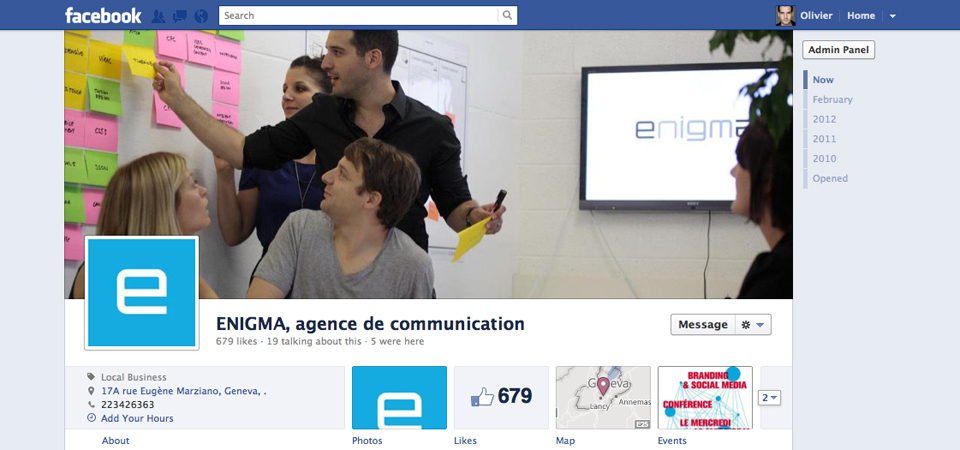 March 18, 2012
Fan pages adopt Timeline
On March 30, 2012, Facebook took a major turn: the wall of each page or profile will automatically become a "timeline." A timeline is a chronological line that will sort each post according to publication date. By scrolling down, the user can go back in time, discover the history of the brand and the "date of birth" of a page.

Here's a recap of the latest updates:
Landing Pages
Until now, a landing page appeared first, as a tab that welcomed new members. The non-fans were thus immediately encouraged to click on "like." In the new version, the tab cannot appear first and is thus not used.
Cover Photo
The cover picture is the first thing that your visitors will see. Consider it as a landing page: its purpose is to invite users to learn more and to scroll down the page to let people discover who you are.
Profile picture
The profile picture appears only as a thumbnail, with a maximum size of 200 pixels x 200 pixels.
Storytelling
Pages are now managed as stories that all previous interactions help create. For a story to be read, it must be well told. It is now possible to create antedated posts, which allows you to edit, and even to build the storytelling of your page. For example one can decide on the date for the brand launch, and create posts for important events.
Milestones & Pin posts


Some posts are more important than others and deserve to be emphasized. Two tools are now within reach: Milestones give weight to one post, which will occupy the width of the page. Formatting is not random; same idea as the cover picture: while the cover picture must be updated regularly to avoid a static page, older pictures will end up in the timeline, as milestone posts.




The other way to highlight a post is "pin." In other words, the post will automatically appear on top of the page, regardless of its publication date. For the community manager, this modification implies a rigorous examination of the highlighted posts, and how long it will stay on our websites.


Statistics
Until now, statistics took 24 to 72 hours to be visible. They will now be accessible in quasi real time, which allows management and analysis to be more refined. This allows advertising and word of mouth marketing to be much more efficient. Some tools that are more precise improve the analysis of efficiency, such as virality coefficient (the percentage of people who used your page to feed information by the number of individual people who have seen it). Enigma used a calculator until now!
Moderating comments
Moderating and managing comments is more efficient now; a 
bit like on a blog.
Messages
It is still impossible to send private messages directly; but there is a big difference now: fans can contact a page, and the page can respond to the messages. This change will impact the way we understand community management.
Applications
The visibility of applications is limited. They are barely published in the newsfeed. In pages, four appear in a larger format (a 111×74 pixels and potentially 810-pixel wide icon, or 50 percent bigger than before), but the others are hidden and only appear when the fan clicks on "more" on the right. This change should be seriously taken into account, since a Facebook app is not the miracle solution to maintain a page alive. Only serious 2.0 apps can reach out to a large audience.