Optimize to stay one step ahead
Conversion Rate Optimization (CRO) is crucial nowadays. Those who stand still lag behind the competition.
At Enigma, we provide CRO services to help you avoid that. We understand that driving traffic to your website is only half the battle; the real success lies in converting that traffic into customers. Our dedicated team of experts uses a data-driven approach to understand your audience better, enhance your website's user experience, and ultimately increase the percentage of visitors who complete a desired action on your site.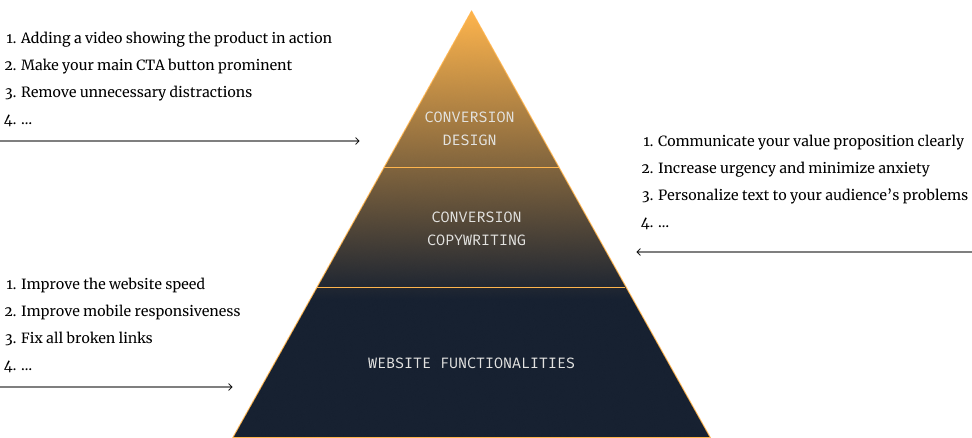 Our approach to CRO
Enigma follows a rigorous CRO process, which involves continuous measurement and optimization.
Our digital media specialists master leading analytics tools, including Google Analytics, Data Studio, and Facebook Analytics, enabling us to deliver tailored solutions for your data intelligence. We provide a live dashboard with key performance indicators and regular strategic alignments. Our goal is to transform your website visitors into contacts and customers through meticulous keyword bidding, audience modifiers, ad text, and landing page optimization.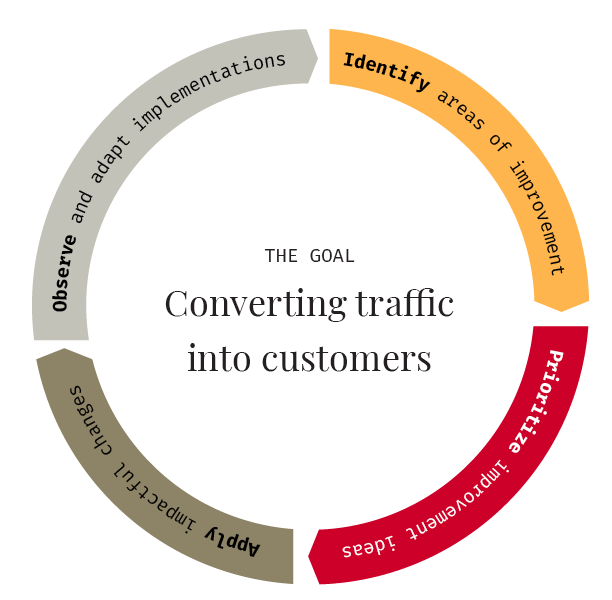 In addition to this quantitative data, we use different methods and user tests to add a qualitative layer to our research. All the desk research in the world can't replace the insights that real users can give you.
Our CRO Offers
Simple CRO
2'950.-
Monthly Price (CHF)
One step funnel

Ownership of ecosystem: Enigma

System (tracking, updates, etc.): Automated

High speed & efficiency
What we can help you optimize (examples)
Lead generation

Form completion

Button click
Multistep funnel

Ownership of ecosystem: Client

System (tracking, updates, etc.): Customized

Slower in speed but more effective
What we can help you optimize (examples)
Everything in "Simple CRO"

eCommerce

Calculators

Bookings
Conversion Rate Optimization
What you'll get with Enigma
Google Analytics Integration
We leverage Google Analytics to gather and analyze data, providing valuable insights into user behavior and facilitating strategic decision-making.
User Experience (UX) Optimization
Our team conducts a thorough analysis of your website to enhance its usability and functionality, ensuring a smooth user journey that encourages conversions.
A/B Testing
We use A/B testing to compare different versions of your webpages, allowing us to determine what resonates best with your audience and optimizes conversion rates.
Landing Page Optimization
We meticulously optimize your landing pages, ensuring they are compelling and designed to convert visitors into leads and customers. This includes attractive text and design.
User Tests
Qualitative research is an important factor in this optimization process. The quantitative data tell us what, but with user tests we can identify the why, which allows us to define the best optimization measures.
Personalized Reporting
Our clients receive a personalized dashboard with real-time data and insights, keeping you updated on every adjustment and improvement.
Conversion Rate Optimization
Strengthen your business with CRO
We can help you reach your business goals thanks to conversion rate optimization. Just drop us a line to get in touch. We're looking forward to exploring new territories with you.

Conversion Rate Optimization
These brands trust us
With teams in Geneva, Bern and Zurich, Enigma is the only agency that covers Switzerland not only in terms of language, but also with its regional differences. Get in touch to find out more about our marketing and communication services and how we can help you reach your marketing objectives with a dedicated team of experts.