April 13, 2021
Inbound vs Outbound Marketing
Let's go straight to the point. In this article, I'll explain the differences between inbound and outbound marketing with a few examples to give you a better understanding of both methods, and the challenges they implicate. Bear in mind that when it comes to inbound and outbound marketing, there needs to be a balance but it doesn't necessarily mean they have to be equally used within your strategy. Also, the balance between inbound and outbound differs from one business to the other… because you're all so unique (can you hear my violins playing?)
Now let's dive in!
The basics of inbound and outbound marketing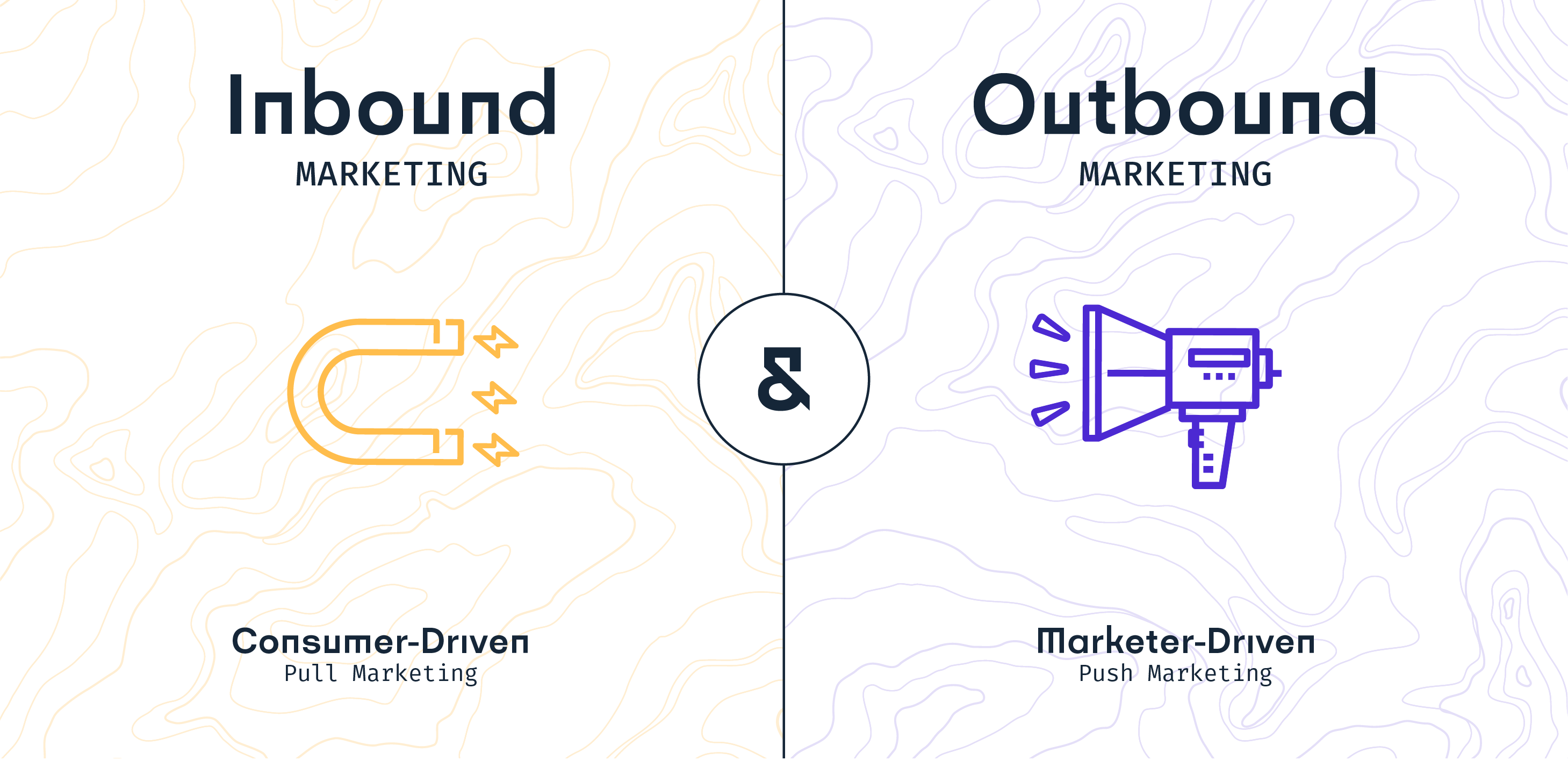 As creative people, at Enigma, we like adding a visual side to everything. Inbound marketing can easily be explained with the design you see above: it's a consumer-driven method acting as a magnet to attract consumers to your brand. On the other hand, outbound marketing is all about speaking of your product or service through a tape recorder to make sure you're being heard by as many people as you can. Inbound is pulling your offer, outbound is pushing it.
Inbound: the power comes from within
Inbound marketing has long been underestimated. In a time where people are looking for more and more personalization, the power of a good content strategy is massive. Through blogging, email marketing, or posting on social media to name only a few techniques, you can show the human side of your brand. And today more than ever, people are hungry for humanity. The greatest way to magnetize people is to care about them. True, sincere care for your clients. So pamper and cherish them by providing quality content on your website. Start a blog to share valuable knowledge, insights and advice that will have a lasting impact on your customers' lives. Send them relevant emails to let them know what's going on and offer them the opportunity to interact with you directly. Create a podcast or a vlog, inspire them and give them material to share, spread and adopt. Install a CRM and gather all the information you possibly can on your website's visitors. Don't post and ghost on your social profiles, ask questions and make your viewers want to respond. Engage with them, get to know them. Communication is key to all relationships, it's no secret. Never take anything or anyone for granted because you might not sell as much as you'd like to – or have sex!
Inbound strategies allow you to target specific customers and not just randomly put out a message to hundreds of people. It saves money and resources. According to Mashable, inbound marketing costs 62% less per lead than traditional outbound marketing.
Of course, marketing is in constant evolution and people can be volatile, influenced by trends and general social changes. This means your strategy has to be flexible and regularly updated to keep it fresh and attractive. And here lies the big challenge of inbound marketing. Now the question is, how do you do that? Well, you need to be open-minded and imaginative, qualities we all have the potential to master if we leave ourselves alone. So leave yourself alone and trust your ability to innovate – or hire a marketing and communications agency, that works too 😏
More seriously, there are 3 key steps to follow in order to successfully build an inbound strategy: attract, engage, delight.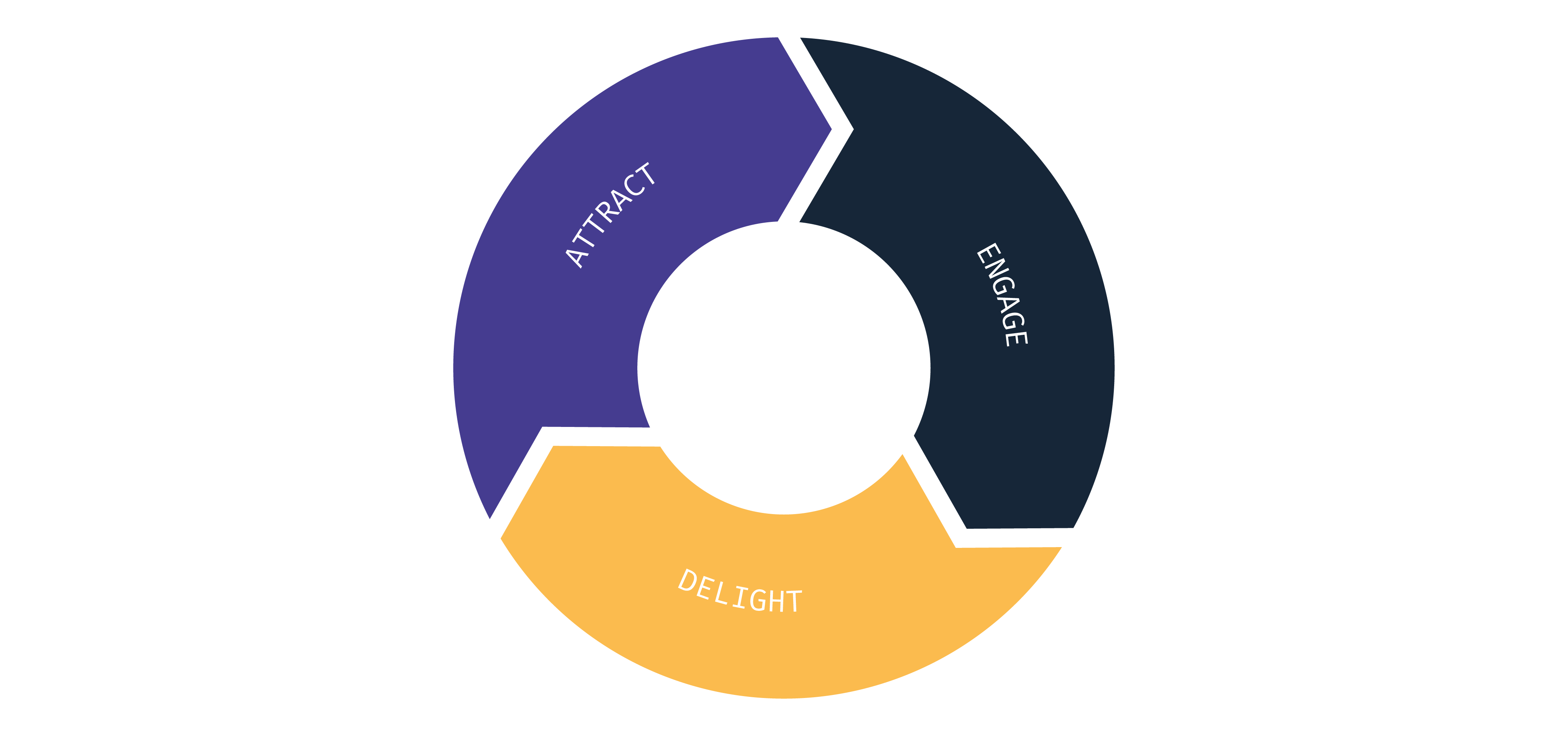 This model is utterly important in your journey to greatness as it covers the entire sales funnel. To make it clearer, I'll go a bit further and give you a definition and a list of tools you can use at each step.
Attract
Draw in your target audience with content and smart conversations that will help them trust you to be an advisor with whom they'd like to engage.
create beautiful ads and videos
write a blog
post on social media
email marketing
Google ads
Programmatic
SEO
Engage
Give insights and solutions that align with their objectives so they are more inclined to buy from you.
send relevant email marketing
manage your leads via a CRM
implement a chatbot on your website
set up marketing automation
Retargeting
Community management
Offer system
Delight
Provide help and support for them to feel empowered by what they purchased from you.
use smart content strategies (meaning your website's content is dynamic and changes according to the interests or past behavior of the viewer)
attribution reporting
ticketing
email marketing
marketing automation
support
Outbound : make it bounce as far as you can
Now that inbound marketing has no secrets for you, let's talk about outbound. It'll go faster as you're probably already using some of its main tools. As we discussed, outbound marketing is pushing your product or service to your clients. Meaning, you will advertise it on social media, google ads, display ads, and/or print. These techniques have been used for many years and their advantage is that they give you visibility. People who weren't thinking about you and didn't even know you existed discover what you do and who you are. Your offer might not be a top-of-mind need but once they are facing it, they could have a crush on you and end up making a purchase.
The challenge though is to measure the impact of your marketing actions as you're presenting your products or services to thousands of people who see hundreds of similar ads every day. In the ocean of display ads, social banners and tv spots, it's hard to know exactly what worked best and where the conversion happened. You can learn more about the conversion journey in this article my colleague Charlotte wrote lately.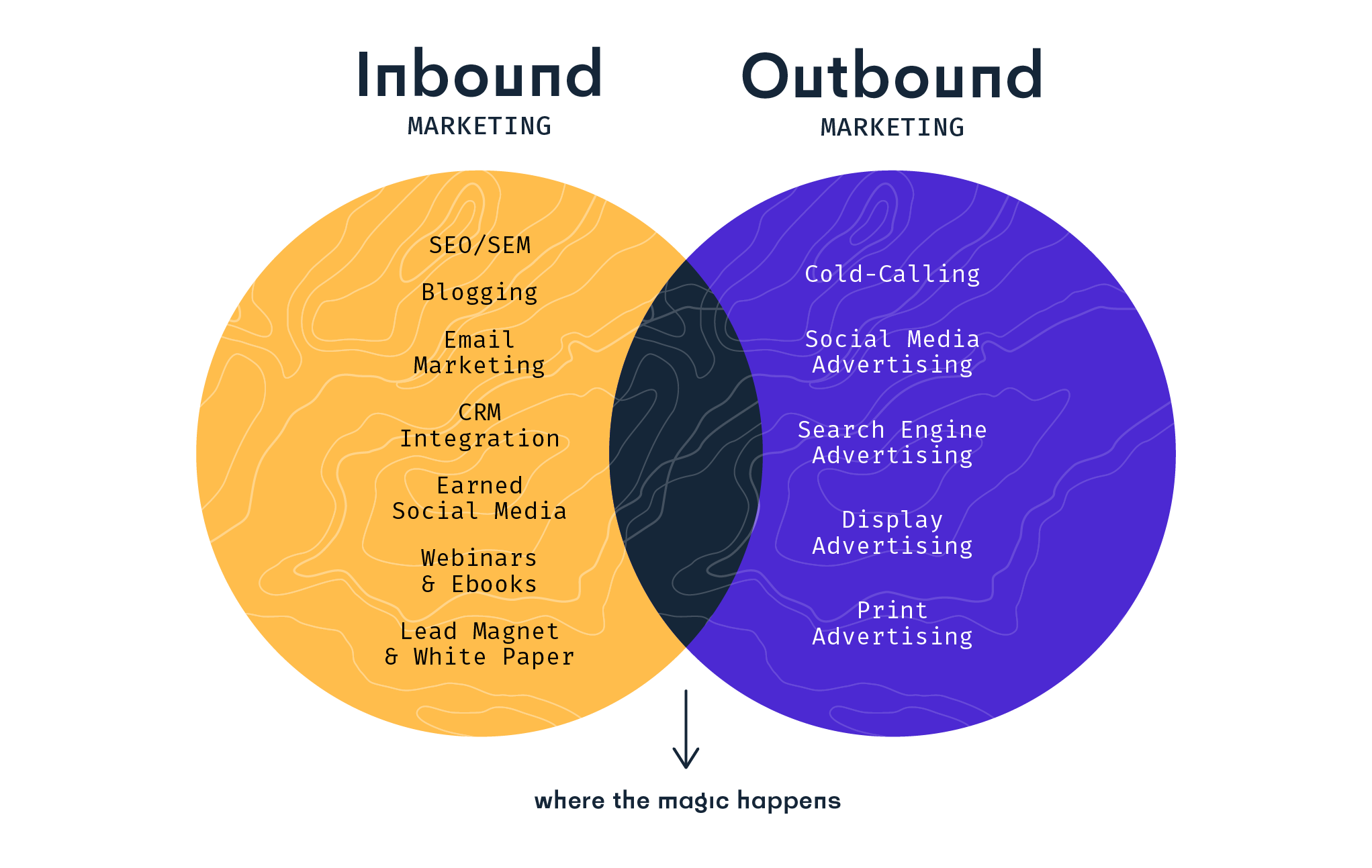 To sum up, the magic happens somewhere in between inbound and outbound marketing. Remember the yin and the yang. It's all about finding your own balance and designing the right strategy to reach the goals you've ambitiously set for yourself.
As we all know, marketing can be overwhelming and takes a lot of time. If you're looking for a helping hand to propel your business to success, we're here for you. Our Marketing as a Service packages allow you to choose different focuses from inbound and outbound techniques to make sure you meet your customers' needs.
I hope this article has been insightful!
See you in another one 😉