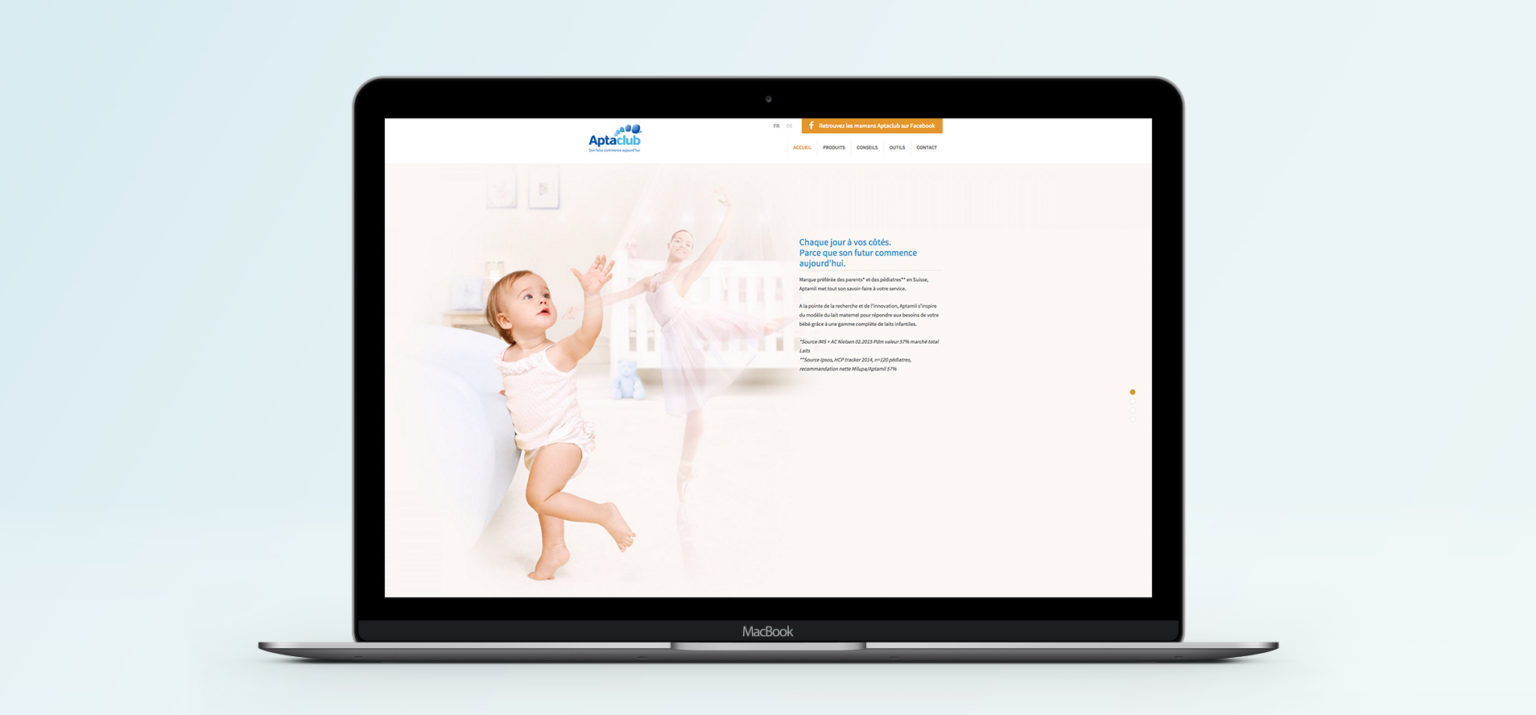 Aptaclub's website
Aptamil
Enigma Strategy & Branding conceived the website aptaclub.ch for Aptamil.
Ambition
To create a platform that would strengthen the ties between the Aptamil brand and new mothers living in Switzerland.
Actions
A French-German bilingual website was conceptualized, designed, and developed; Adwords was later installed to generate high traffic.
Design
A clean design was created based on the previously developed , emphasizing the brand's rich content. As homepage, a parallax engages visitors to discover the brand, a quick access to products through filters, clear and easily readable product descriptions, as well as advice and tools that offer a strong user experience via a simple and intuitive navigation.
Blog
The various topics addressed on the website about pregnancy, babies, breastfeeding, and toddlers were brought together in one blog that highlights the value of each article. Modern and dynamic, it lets users to navigate easily between articles and videos, according to topics or interests. In order to meet the expectations of parents who are seeking advice and products, we have built bridges to ease traffic from topic one to the next.
Products
Clear and attractive product descriptions were added to show the variety of available products.
Growth chart
We developed a tool that lets users follow the weight variations and the height on a monthly basis. Every time they login, users will be pleased to find the history of the data that were previously entered for their child(ren).
Calculator and delivery date
Another tool is available on the website: with a few clicks, a calculator narrows down the due date of expecting mothers.
Apta Babyname Application
A third tool is the , downloadable on iOS or Android, which brings fun to parents brainstorming for their baby's name.
Adwords Campaigns
We conducted a significant advertising campaign with Google Adwords, using a complex and personalized campaign structure.