A captivating brand story for an investment foundation
Usaga
Shortly before entering the market, Usaga, an investment foundation for non-profit real estate, entrusted Enigma with developing storytelling and creating of design drafts for a strong and clear presence in the market.
Ambition
As an investment foundation for non-profit real estate, it was important for Usaga to position itself with a clear story for their market entry as well as to stand out from the competition.
To achieve this, Enigma helped the foundation to address the right questions and to decide how Usaga wants to be perceived from the outside.
Action
Analysis and workshop
The execution of a full potential analysis, which compared Usaga with other real estate investment foundations, brought insights into the market and showed the strengths and weaknesses of the competition and Usaga itself. The results of the analysis already showed a first need for action as to where and how Usaga can differentiate itself from the competition.
In a workshop, Usagas brand personality was developed and a discussion about neuromarketing triggers was held. Two possible archetypes were identified and then compared with different design proposals. "The Guardian", which radiates power and trust, was eventually chosen as the ideal archetype for Usaga. Enigma formulated the brand values as a pitch in line with this archetype.
Storytelling
Usaga was well aware that they had to tell a story to be remembered by their customers. Enigma developed the following story:
"Our products are the vitamins for your investments."
The story shows that the products have a long-term positive effect and that an investment in Usagas non-profit real estate is worthwhile. Creatively the story was staged with appropriate colors and imagery.
Design proposals
After determining the archetype and story, Enigma developed further design proposals for a presentation, a flyer and their website, which finally served as inspiration for Usaga and were independently implemented by them.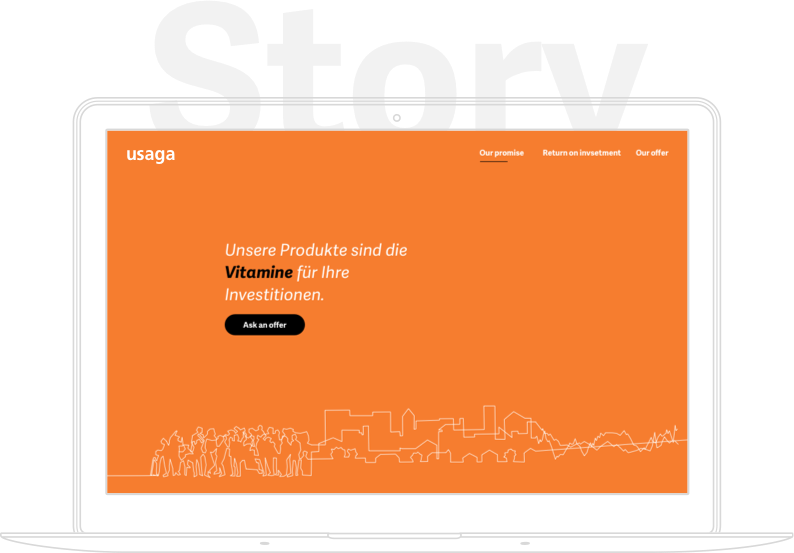 Impact
By addressing the brand identity and developing possible brand stories as well as design approaches, Usaga was ready for market entry within only one month.
Credits